Banks Hedge Their Bets on Fintech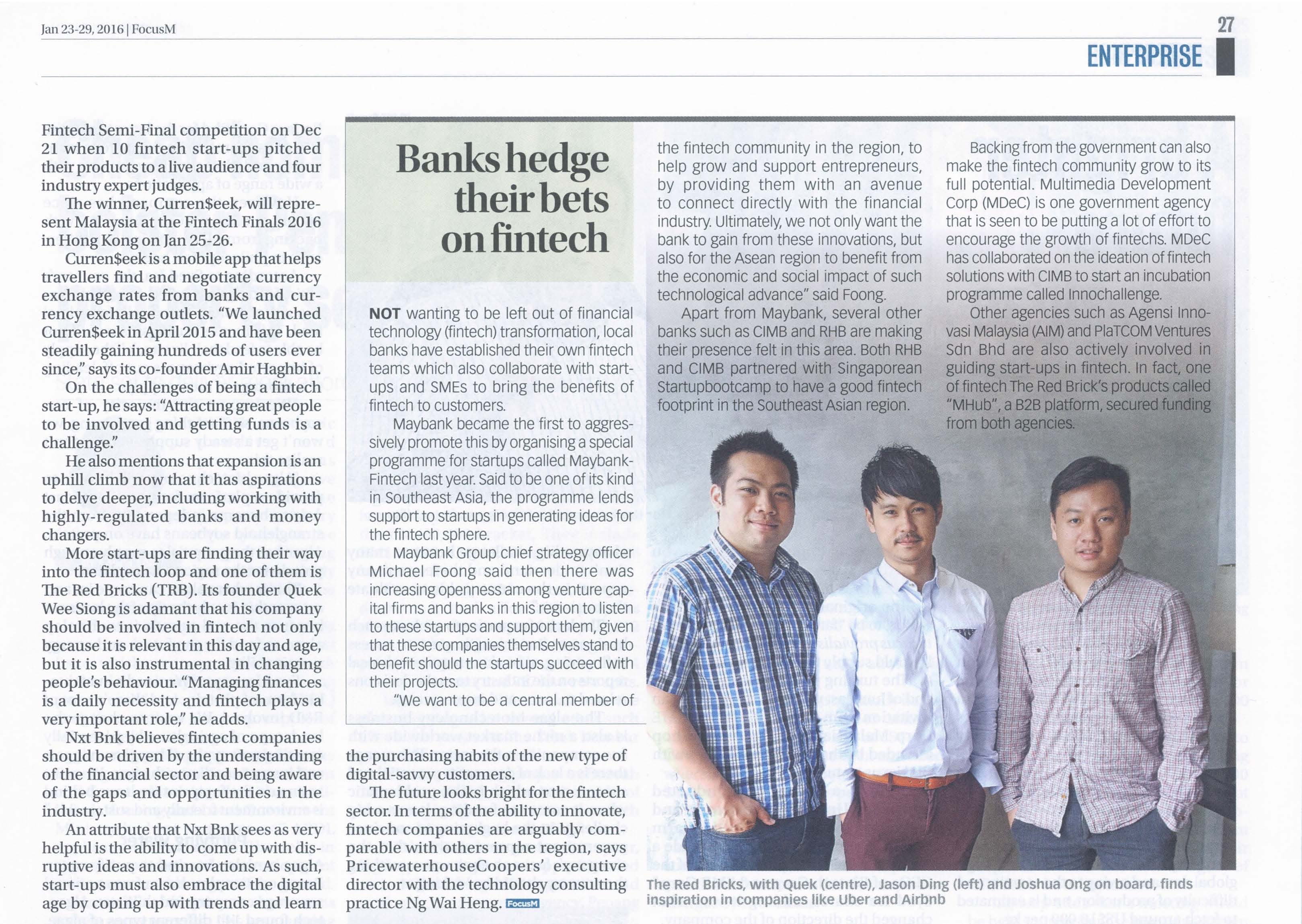 Our Interview with Focus
How is The Red Bricks (TRB) involved in FinTech, and how long has it been?

TRB stands for "The Red Bricks" to reflect the analogy that every great empire starts with the basic building unit of bricks and is built up brick by brick. We are a Malaysian based FinTech start-up with the initial aim of linking the Property and Financial Industries in one single Ecosystem.

Our innovation is always based FIVE core values :-

Simplicity,
Effectiveness,
Efficiency,
Systematic & Scalable and
Gamification.

Hence, our approach to building something is not merely to have a functional solution, but to make it a superb experiential one by adding elements of entertainment to seemingly mundane tasks enjoyable.

Challenges being in FinTech:

Funding (Seed).
Bootstrap – savings.
Started up without any office (cafes to cafes).
Always about doing more with minimal resources.
Taking the plunge from the comfort of stable jobs and what we had was determination, passion to see us through.

Go To Market (GTM) – Product Acceptance Market scepticism towards a new product and slow to accept change New company, lack of track record Many potential stakeholders whom we approached preferred to take a wait and see attitude. Not wanting to pre-commit and waiting to see if any of their peers come. (Herd mentality syndrome) Require extra effort and patience than other non-FinTech start-up. (ie: non-FinTech start-up could launch their product within weeks from their ideation stage whereas FinTech start-up could take months and even up to years before Go-To-Market due to higher entry barrier (meeting regulator's demand and red tapes in big Financial Institution).

Fast paced industry

Need for us to constantly be up to date with what is happening in the fintech sphere.
Products evolve very quickly and a fintech startup needs to be perceptive and react just as quickly.

Data Security and Compliance

Extremely important to ensure that collated data from our stake holders are safe from intrusion and its integrity is not compromised.
Financial world is a highly regulated industry and very often, new.
Emphasis is placed developing a product that is simple and functional yet secure.

Fintech is appealing because:-

Tremendous potential.
This industry is still very much in the infancy in ASEAN region but is fast gaining traction due to much the growth in high speed internet via smartphone penetration over the last 5 years.

Transition era

The transition of internet from being a source of information to being a key part of lifestyle. (Internet Banking , Stockbroking, Robo Advisor).
E.g. it took Malaysians many years to accept and adopt online banking. When you apply for a loan, you still think about filling up forms, going to the bank branch. Can you imagine if in the near future, everything can be done online without paper? It is not easy to change behaviour, but it is what FinTech companies need to do - because change is inevitable - exciting, because the banking industry is on the verge of a major revolution. Just quote examples from overseas - e.g. traditional multi billion dollar institutional banks are fighting for survival against new online only / branchless fintech businesses and we want to be part of this new wave.

To be instrumental in changing people's behavior.

Just like how uber changed the way people travel, and how airbnb changed the way people go on holiday, fintech will change the way people manage their finances.

How is TRB is different? The entire Financial Industry is rather complex and complicated especially to people on the street. There are many financial solutions out there in the market at the moment, every solution is different in terms of product range offered (loans, credit cards, insurance, savings, etc); some focus on B2C (Business to Consumer) and some focus on B2B (Business to Business). Each FinTech start-up is playing its role in changing the different piece of the puzzle of this whole Financial Industry.
TRB's motto is to inspire, build & share.
Thus, the birth of MHub as a Financial Business Marketplace (a B2B platform) to connect stakeholders (Bankers, Property Developers, Property Agents, Law Firms, any other Property related companies, etc) on one single platform for networking, ease of communication and even do business together.
MHub allows Bankers to activate his/her affiliates to bridge the gap between borrowers and banks and creating a win for all. Banks could tap on MHub's resources (data base and affiliates) to grow their client base more efficiently and effectively with a lower total customer acquisition cost; Affiliates would be banking on MHub's transparency, quick accessibility and simplicity to help their clients (Borrowers) to receive the best package offered by each financial institution; whereas Borrowers will have immediate access to wider and better bankers' services around the region.
MHub is now at its final stage of pre-commercialization, and is scheduled to be launched by end of first quarter of 2016. Even prior to this launching, we are proudly announced that we have secured official approval for the funding of Productization to ready for Go-To-Market from Agensi Inovasi Malaysia (AIM) 100% owned vehicle: PlaTCOM Ventures Sdn Bhd under its High Impact Product 2 Programme (HIP2).