Big Data & Analytics for Real Estate & Property Development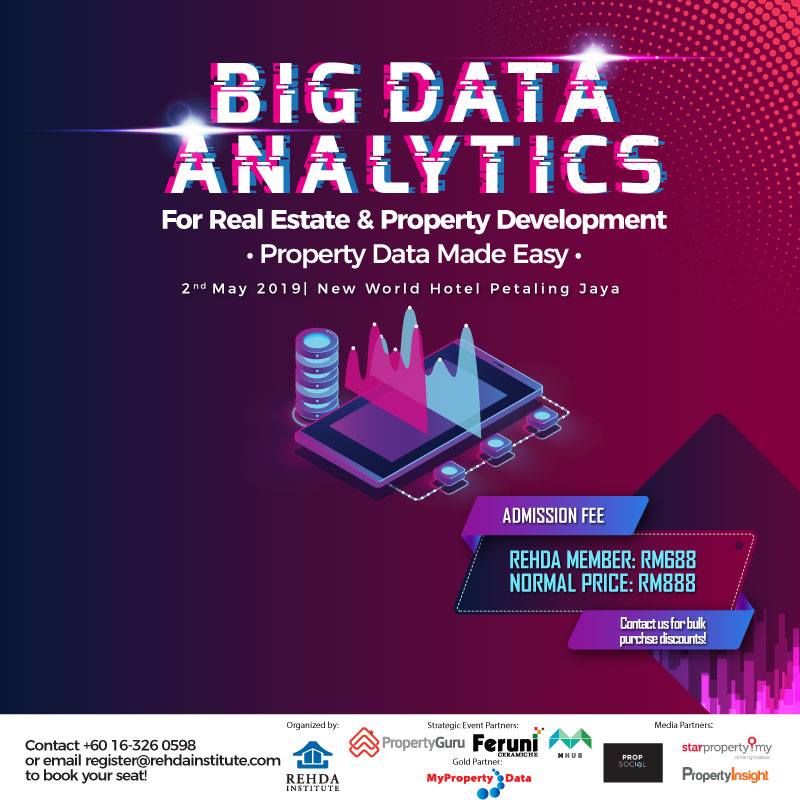 Taken from REHDA Institute FB:
REHDA Institute is bringing together today's prominent and experienced leaders at our Big Data & Analytics for Real Estate & Property Development. This one day insightful and inspirational presentations, forward thinking discussions and networking opportunities connecting both creative marketers and data practitioners alike, key takeaways and data strategies to implement into your marketing plan.
In this conference, we will talk about the "Overview of NAPIC Data and Transaction 2018" and analyse the property market trend 2019 in both residential and commercial. With large amounts of information available, the speakers will share their insights on conquering the data mountain and how to leverage on these data to drive revenue management decision making. The Marketing Gurus and Practitioners also will share how data drives decisions in marketing strategy and transfer their skill and knowledge to the participants and breakthrough revenue results.
If you would like to know more how big data can drives your sales and marketing higher OR how data can powers everything that we do, then we would like to invite you to our Big Data &Analytics - Property Data Made Easy to stay relevant in the fourth industrial revolution.
Start your journey towards your success today!
Want to know more? Please contact: Mr. Pearljit Singh | 016 3260 598 | pearljit@rehdainstitute.com Ms. Karen Leong | 016 615 3877 | karenleong@rehdainstitute.com or drop us an email at register@rehdainstitute.com